RT 135 SLOPES DOWN - NO DRAINS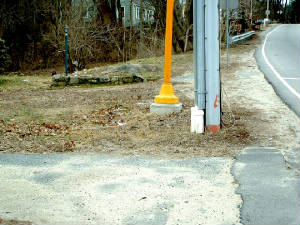 NOTE: BLUE HOUSE IS A RED LIKE-BUILD. NB LAND FILL EXCEEDS 8' EVEN CLOSE TO HWY
Facing West on Rte 135: "Every Picture Tells A Story" and so it is trus of this photo. First, there is the incline of Rte 135... the lack of curbs... the lack of storm drains... the negative pitch onto the property... the backfill of the neighbor (click to enlarge photo) who current sits higher and on about equal setback from Rte 135 as the red house. Of course, if current plans hold, the back of this neighbors home will be facing the front of the build. They should be equally concerned about lighting, plowing, etc.
Oh yes... And one can see the immediate high of a small retaining attempt to level a portion of the front lawn. In essence, this process is being proposed for the ENTIRE LOT.
This is he same meager driveway whicdh is at the base the above photo. This photo shows the was that currently happens onto the driveway because there is a negative slope to the property. It is beging shown for another reason which follows.