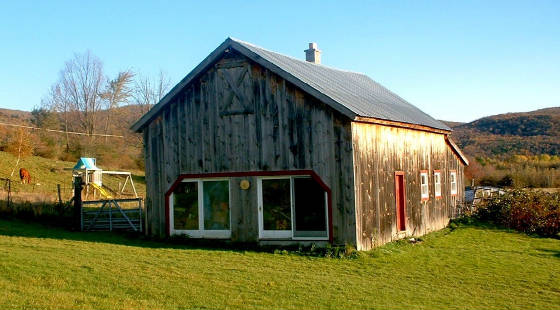 Elmartin Farm's Original Barn
Built as a horse and carriage house, this building can be seen pictured in the book, "Picturesque Berkshire, Part 1, North, on page 112. The publication is dated 1893. Today it is a Guest House and Office.
The building is covered with a facade of rough sawn wood and batten. Once on the inside, the original barn wood becomes apparent as the internal walls.
The glass sliding doors close in what were once the carriage bays.
Walking in from the sliding doors or side door seen in the above photo, one enters a large living area. Stairs in this area lead to a loft bedroom which overlooks the living area.
From the living area, one also can walk through a door to an office used by the farm.
Farm Vacation Location
Days & Day-Trips To Enjoyment
Farm Living: Elmartin is a working, livestock farm of various animals and ownership programs
Natural Beauty: The Berkshires, Taconic, Catskills, Green Mountains, Pioneer Valley, Westfield River
Destinations: Quaint New England & Northeast Towns & Re-emerging Cities
Music: Tanglewood, Saratoga Performing Arts, South Mountain Classical, Jazz Festivals
Theaters: Colonial, Barrington Stage, Williamstown Playhouse, Shakespear Theater
Museums: Berkshire, Mass MOCA, Sharker Village, Revolutionay War Memorials
Casinos: Mohigan Sun, MGM, Foxwoods, Saratoga
World-Class Horse Racing & Auctions: Saratoga Flats and Trotters
Shopping: Antiques, Boutiques, Fabulous Consignments, Paintings, Blown Glass, Metal Sculptures